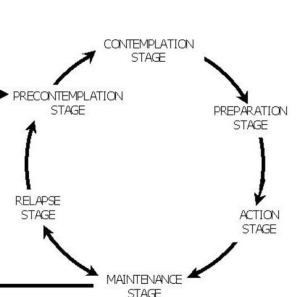 Cycle of addiction
I was 22 when I first realized I needed addiction treatment.  Too many times have I attended inpatient treatment or a drug rehab centre since then.  After receiving the usual services, which varied from place to place, I would start the addiction cycle all over again.  Inpatient treatment was a great place for me to get educated.  Each place operated on a basic template derived from the early 90s model.  Thus  I was sent to meetings, attended group, and hung out in the smoke pit.  Wake up and repeat this for 30-90 days.  Staying sober in a treatment centre is fairly easy.  But what happens when you leave?  Anyone who has been introduced to any form of 12 step programming knows the age old phrase: "left to my own devices" I will fail!
This is a far cry from what actual counseling will tell you.  The cycle of addiction is very simple.  Actively using until I manage to get a moment of clarity, enter a rehab facility, get healthy, return to normal life, get overwhelmed, and use again to deal with life.  Sound familiar?  If you can relate, or are reading this with no idea about addiction treatment, there is a common bond that connects us all.  That is the guilt and shame we posses around the choices we have made.  Nobody just ends up on an addiction information page because they thought it was an interesting topic to type into the search engine.
12 step programs are a great start
I met a few really great friends 22 years ago.  Three of them to this day stayed sober.  Thus out of 52 people, less than 10% stayed sober.  And all my support group to this day have more than 10 years of sobriety.  These are the statistics we are working with.  Ask an old timer from a 12 step fellowship and they will tell you different.  Unfortunately if they look at the relative ratio of people then to now, the statistics do not change much.
When AA first started there was a much tighter knit group than you see today.  So it is fair to say that the more connected we are to like  minded people, the more likely we are to stay sober.  This is the answer.  Absolutely doing a set of steps is a life changing event if you do it with the utmost honesty.  A person cannot complete a thorough set of steps without having some "ah ha" moments and a new perspective on life.  The difference between my friends that stayed sober over the years and myself is that I disconnected.  Work takes over, relationships begin, priorities change, counseling becomes unnecessary, and I become isolated.
Counseling and after-care support
Counseling and after-care services were the pieces I needed.  The amazing thing is that these are available without being locked up for 30-90 days.  There was no treatment back in 1935 when the 12 step method was started.  Thus for some it is not a requirement today.  Outpatient addiction treatment provides, in my opinion, a much more result based service.  
Entering into past trauma counseling prior to being sober and having the coping skills to deal with them is proven to be detrimental.  The Betty Ford addiction treatment centre outlines in great detail how to approach trauma.  Being 30 days sober and having a non-professional try to get me to deal with sexual abuse, in my opinion is more harmful than helpful.  All addicted and non-addicted people have experienced some form of trauma.  We all have different coping mechanisms to deal with this.  Therefore, when I was ready, I was able to revisit this area of my life with a trained professional.
  Why I needed addiction treatment does not matter, because I went to rehab is the reason I got sober.  Because I continued with outpatient treatment is the reason I remain sober.  Whether you choose inpatient treatment or outpatient treatment, give yourself a real chance and implement a strong after-care plan.  Nobody needs to do this on their own!